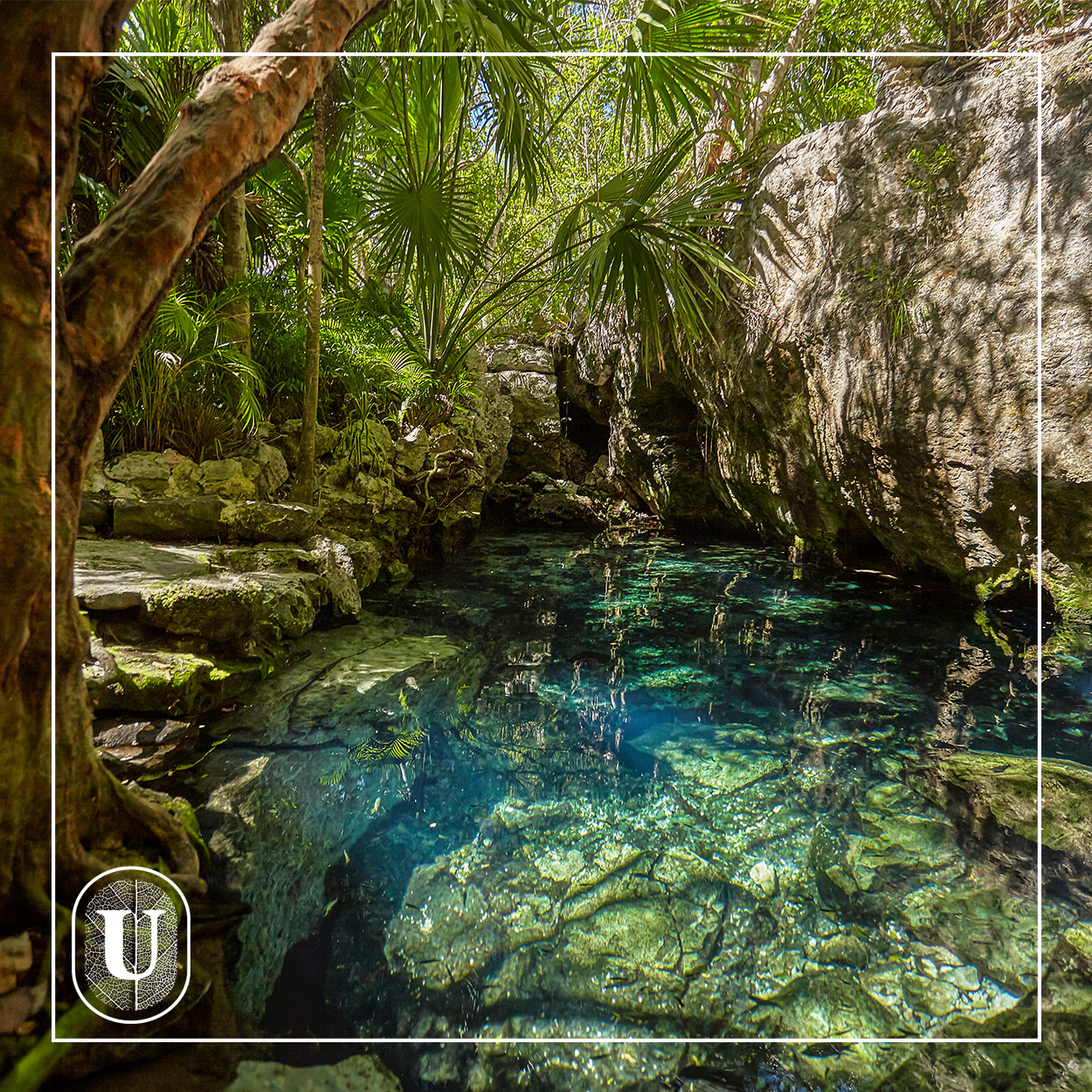 La Ruta de los Cenotes in Puerto Morelos, Quintana Roo, is a road with 35 kilometers of crystalline water wells. The entrance to this magic region is only 7 min away from Aldea Umm.
The sacred water of the Mayans. Cenotes or "dzonot", which in Mayan means "water cave" or "sacred well". It was their main source of sweet water in the middle of the jungle and the entrance to the underworld: the Xibalbá. Mayans used it as a portal where they could communicate with their gods. Drivers have found evidence of pieces used in ceremonies, such as ceramic, gold necklaces and even human bones.

Limestone is the baseband of the Yucatan Peninsula. This porous structure is exposed to groundwater that seeps through the rains and runs below the surface. These wells of clear water emerge to the surface when the limestone bed collapses and exposes the water beneath.
Cenotes are geomorphological structures, which means they are transitional structures with natural rock shells. Its creation is a result of an erosive phenomenon altered by water. In a final stage, cenotes can even end up dried, only as relief and become what is known as paleokarst.
There are four types of cenotes: cavern, semi-open, open and ancient; and the classification is related to the cenote's age. The youngest are those who keep their dome intact, as they acquire maturity they transmute from caves to completely open cenotes.
The caver tipe are practically closed, except for the opening where you can access, the semi-open ones have vertical walls that narrow at the top, like a pitcher. Some of the open ones have cylindrical vertical walls; and the ancients, the oldest, are similar to a lagoon.
Cenotes formed during the Pleistocene glaciers and are mostly widening of complex underground river networks, in which the seawater, that is much denser than sweetwater, penetrates the bottom groundwater system. Usually, they are circular but there are exceptions.
From Aldea Umm to the starting point of La Ruta de los Cenotes, in Puerto Morelos, is only a seven-minute drive: the entrance to a 35-kilometer corridor towards Leona Vicario, with all types of cenotes to enjoy. You will be able to do snorkeling, diving, cycling, and other excursions. In some cenotes, a ticket fee includes the entrance to three different cenotes.
There is no exact number but it is estimated to be more than 8,000 cenotes in the Yucatan Peninsula, only about 2,600 have been registered, making up one of the most important eco-tourism attractions in Mexico. Who has swum in a cenote knows that it is an unforgettable magical experience. But for locals, it is a weekend activity, an opportunity to let you surprise and reconnect your senses with nature.